Look at this tree outside my office window. Isn't that great? I'm completely stupid about trees so I have no idea what kind of tree it is, but I see them all over the place and I love them. I want one in my yard. I love fall.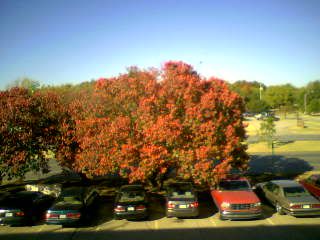 I was watching
The Amazing Race
last night and had to watch on my Tivo-less TV in the bedroom because Randy was watching basketball in the living room. So, I watched commercials for the first time in... forever and saw a commercial for
Yes, Dear
. That show is still on? Seriously? And more importantly, how? I remember when that came on and all the critics hated it but for some reason it drew a decent audience. I figured it'd be around for a couple years but would run out of steam. Then I just kind of stopped hearing about it and assumed it was canceled. But it's still on! It boggles the mind. I love Tivo but I also am feeling a little out of touch since I rarely see commercials anymore. Yeah, commercials are annoying, but clearly I'm missing out on stuff. Not good stuff, but I guess I like to know what's going on.
I also saw a Carl's Jr commercial and I see that they're back to the commercials with the nasty, drippy burger sound effects. All I can say is Ew! That's the only reason I've never eaten at Carl's Jr. There is nothing appetizing about slurpy sound effects.
Anyway, back to
The Amazing Race
- I am so terribly disappointed with this family edition crap. It has completely ruined the show. When I first heard about the concept, I was concerned about having to watch whiny little kids on TV. Surprisingly, the kids aren't the problem. The 2 teams with young kids were both awesome. One of them was the first team eliminated and while it's hard to get a feel for them in such a short time, it seemed pretty apparent that the 2 kids were very cool. The team that got booted last night with 2 cute kids were my favorite team. That was such a nice, well adjusted family and those kids were so mature and adorable. Both of those kids were awesome and they were more well adjusted and mature than any of the adults and teens left in the race. So yeah, kids seemed like a bad idea to me, but it worked ok because the producers had the sense to cast really likable kids. The problem with this edition of TAR is the total lack of racing. The majority of the transportation is pre-arranged and spoon-fed to the teams. There has been no "find your own flight" airport intrigue. Nothing that happens really matters in determining the placement of teams. Everything is basically settled by dumb luck so teams don't have a chance to be rewarded for good racing strategy. Then there's the fact that it took 4 or 5 episodes before they even left the U.S. And on top of that, most of the teams are completely unlikeable. It's not that they have a few annoying tendencies but also have some redeeming qualities to at least make me care, as is normally the case with this show. These people are all just horrid and unwatchable. It's just so painful. My show is broken!
The New Orleans Hornets played their first game here last night. I've never cared about the NBA but I have to admit, it's a lot more interesting with a team here, even if it is a temporary thing. I didn't get to go to the game but Dad went and had a good time. From what I've heard and read, the crowd was totally jacked and the atmosphere was great. The Hornets pummeled Sacramento and really seemed to appreciate the crowd. And without even seeing a game yet, I have pegged Speedy Claxton as my favorite player. Why? Well, I have three reasons:
1. I absolutely love little guys who can shoot the three. Those have always been my favorite types of players to watch.
2. His name is Speedy. I know it's a nickname, but how can you not love a guy who goes by "Speedy"?
3. I fondly remember the NCAA tournament a few years back when Speedy led Hofstra to an upset win in the first round over Oklahoma State.
And before all of my OSU friends get in an uproar over number 3, my fond memories have nothing to do with the fact that OSU lost. I just love underdogs in the NCAA tourney and I fondly remember all of them. Butler, Bucknell, Manhattan, Providence, etc. - They've all had underdog glory in the tourney and I have loved every minute of it. Who doesn't love an underdog? So, please don't send me hate mail. OSU is fine. They're not my team of choice but I have no ill will.
Oh yeah! All my rambling about total nonsense almost caused me to forget that I have actual interesting news about myself to share. A few months ago, I applied for a job with the Oklahoma Employment Security Commission. It looked like something I'd be good at and it pays significantly more than what I make now so I figured it was worth a shot. Time went by and nothing came of it so I had pretty much forgotten about it. Then out of the blue last week, I get invited to interview. Woo! My interview is next Wednesday and I am really jacked up about it. I'm feeling really confident. I'm not even nervous. I've already got a job, so it's not like my livelihood is at stake so why worry about it. If I get the job, great! The extra money would be nice. But if not, no big deal. I'm doing ok with what I make now. I'm very qualified for the job and think I would enjoy it but at the same time, there's no pressure. It is what it is. I've never had this attitude about an interview before but I think it's really going to help me do what I need to do to get the job. I'm so ready to go. Bring it on interview person/people!
Tulsa has a big game this weekend at UTEP. The winner of this game most likely will win the division and get to host the C-USA championship game. Tulsa is pretty much enemy number 1 since TU's upset of UTEP last year when they were ranked 24th. Plus, Mike Price got his panties in a wad over comments from the student section about his strip club incident. Baby. And on top of that, I think there are also some guys left on the team who remember when TU broke an 18 game losing streak against UTEP and the TU student section stormed the field, tore down a goal post and carried it across campus. It was a silly thing to do but still kind of amusing to me. I think what was most entertaining was that there were three or four cops on the field who stood between the students and the post and the students were actually giving in and turning away. Then the Athletic Director or school president (I don't remember which) waved the cops off and let the students release 2 seasons of frustration on the goal post. I'm sure it ticked off UTEP, and rightfully so, but it still felt good to see the goal post go down. So, needless to say, TU will be going into a very hostile environment on Saturday. I still feel pretty good about the game though. TU is playing better on the road this season. Plus, they were off last week and have had 2 weeks to prepare/get healthy. I think the coaches will have them ready to go. I can't wait.
I've gotta wrap this up. Lunch time is about over and I still have to proof read. I didn't mean to ramble this much. Later.