Check out our new boat! I have to admit, I think it's pretty bitch'n.
I met Randy at Lake Eufaula on Saturday so I could get a look at what I bought. I was pleasantly surprised. I knew it was a nice boat, but I had no idea how much more fun it would be than our old boat. I always figured a boat is a boat is a boat. Not so. This new one is roomy, has tons of storage and is a great ride. This thing glides right through choppy water and you barely feel it. It's really sweet. I also love the fact that it doesn't have carpet. It's a fiberglass floor. No more vacuuming. We can just take it to the car wash and hose it out. I really like that.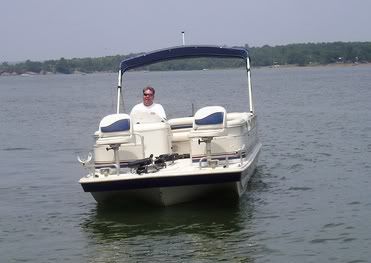 So I am very happy with the purchase and so is Randy. We were having so much fun with the new boat this weekend that we couldn't drag ourselves off the lake Sunday. Usually when we go to the lake we're on the way home by 1 or 2 in the afternoon. But we didn't leave the lake until about 7 in the evening last night. It was crazy. We were just enjoying the boat so much. The boat really kicks ass. I can't wait for Horatio to see it. We'll be introducing him to the new boat this weekend. I'm sure he'll like it since there's plenty of shade for him to nap in. It'll also be much easier for him to get on and off. And since there's no damn carpet to clean, his dirty paws will no longer be a concern to me. This is the ultimate boat for a dog.
So that's it. Just wanted to show off the boat. Later.