Oy! I'm experimenting again. That's never good. But I am anxious to find an easier hosting solution for AudreysAudities.com. I'll never find something I like unless I experiment. I think this will work better than that Blogger disaster I tried a few months back. This Livejournal site seems cool. I have more control over what my crap will look like, plus I can easily add pictures (I think). I'm actually not sure. It could be the deal breaker. Let's do a test.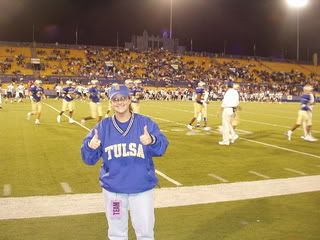 Here's a picture of me looking like a dork on the TU sideline.
Holy crap! It worked! Wow, I might have found a decent solution. Cool.
Anyway, I went to see
The Toasters
last Friday at a bar in Bricktown. They were awesome! I never thought I'd see the day that a ska band would be playing in Oklahoma City. It was a great show. I went with the Parents, Randy and a friend of my Dad. The warm up bands were local hacks. Man did they ever suck. There are no words. It was torture. The first band was made up of some teenage boys. I'm pretty sure their parents had to drive them to the gig. They were trying real hard to do some hardcore garage punk but it was very hard to take them seriously with their awkward pubescent voices. It's impossible to sound like an angry punk rocker at that age. The second band was equally bad for reasons I can't quite remember. I think the main issue I had with them was that they were trying too hard. The guitar player broke 2 strings during the first song because he was putting so much effort into being a bad-ass. It was awful. Fortunately, The Toasters were awesome enough to make my suffering worthwhile. They played some of my favorites and were fun. It's impossible to not get fired up when listening to ska. It was a blast.
Valentine's Day was surprisingly cool. I know, I'm anti-V Day. And I still disagree with the commercialism and phony nature of the holiday. But, Marriage has kind of turned me into a sap. (Oh crap! I've become everything I've ever hated!) Randy got me some cute kissing dogs from Hallmark and he got me a solid milk chocolate fish that says "I'm hooked on you." on the box. That fish is the coolest piece of chocolate I have ever seen. I don't even want to open it. It's too cool to eat. Randy also took me to dinner at one of my favorite Mexican restaurants. It was a good day. I got Randy some steaks from
OmahaSteaks
. I had heard lots of good things about them and Randy loves steak so I figured I'd give it a try for Valentine's day. It seemed like a good manly-man gift to counteract against the girlishness of the holiday. It turned out to be a great idea. I cooked the steaks for dinner Sunday night and they were damn tasty. They were totally worth the expense. I'll definitely keep that in mind to do again on some special occasion.
So that's about it for today. I'm going to start moving old entries over from the website. I like this new set up. I think I might actually stick with it. Later.