Holy crap! I haven't done an update in a month. I suck. Man, how time flies...
Well, it's the Friday before Labor Day weekend. I'm at work. The building is deserted. Of 5 people in my office, I am the only person here. That means I can't leave early because the office has to stay open just in case someone needs to file something. Oh joy.
So I just answered a call to the office and had the following conversation:
ME: "Judges Office, this is Audrey. May I help you?"
GUY: "Uh... Yeah. Uh, is Jackie there?"
ME: "I'm sorry, you have the wrong number."
GUY: "You think so? I think not. This is the DEVIL!"
ME: "Whatever." (click)
What the Hell is that about? People suck.
I've been ultra busy lately. I've been out of town the past three weekends. The first weekend, Randy and I went with Mom and Dad to Lake Texoma. It was an awesome trip. We stayed in a cheap ass, yet totally decent mobile home. It wasn't fancy and the interior was pretty 1970, but it was clean and roomy. It was way cooler than staying at the dumpy ass State Parks cabins. It was a great weekend. We had lots of fun and no disasters.
It was a great weekend for Horatio too. He finally started swimming. He had gotten to where he was comfortable in and around water as long as he was on his raft or able to touch bottom. At Texoma, he finally made the leap to swimming. Randy and I had the boat pulled up on a sandy beach at an island. We were out swimming and Horatio followed us in as far as he could and still be standing. But I could se in his face that he wanted to come out where we were. So Randy and I called him a couple times and he took the plunge. He swam out to us and we gave him lots of praise and then walked back to the beach with him so he'd learn how to get out. He was awesome! After that first swim, we couldn't keep him out of the water. My dog officially loves the lake.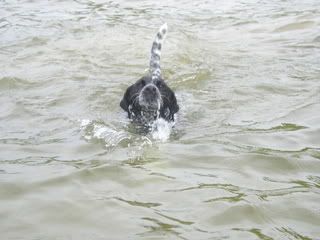 The following weekend, we went to Las Vegas to celebrate my Dad's 50th birthday. There was a group of 10 of us who all met in Vegas for the weekend. It was me and Randy, Mom and Dad, my Grandparents - Joyce and Larry, Mr. and Mrs. Whodini, and our friends Eddy and Tina. We had a blast. Randy was a Vegas virgin, so that was fun. Unfortunately, Randy and I both had terrible luck. We got our asses kicked. I still had lots of fun. Randy seems uneasy about the money loss, but I think he had fun. I had a really bitchin' margarita while I was there. It was 48 ounces and I got it in the Caesar's Palace mall. It was the best margarita ever! I can't wait to go back and have another one.
Of course I took Randy to all the major highlight spots. I made him watch the Fountains at Bellagio, because I LOVE those damn things. Randy was really impressed by the Venitian. We saw the Mirage volcano and tried to watch the Pirate fight at Treasure Island but it was canceled because of high winds. We had dinner at my favorite seafood buffet. I ate crab legs until I was sick. It was AWESOME.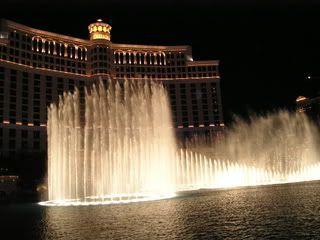 We had Dad's birthday dinner at Batista's Hole in the Wall. It's a neat Italian place. The food is average, but the atmosphere is great and makes the place worthwhile. Larry gave my Dad a possum penis for his birthday. (No no one in my family is hooked up right.) I really don't know what to say about that. I just like saying possum penis.
On our last day in Vegas together, everyone in the group each put $20 into a slot pot. We took the $200 and put it through a dollar slot machine. We all took turns playing. The luckiest member of the group was Larry who hit a $200 jackpot. We ended up breaking even and had a great time. We were all crowded around the machine cheering and making a lot of noise. Before I knew it, there was a crowd standing around watching us. People are so nosey. There are idiots out there who will watch anything.
This past weekend, Randy and I went to Lake Eufala. We stayed with friends, Tony and Dusty at their lake house. Eddy and Tina were there too. I spent a large portion of the weekend on one of Tony and Dusty's SeaDoos. Damn those things are fun. I was hauling ass and jumping boat wakes. I really need to get me one of those things.
Horatio picked up right where he left off from our last lake trip. He swam and played and had lots of fun. We spent most of Saturday beached on an island that is a big party spot at Eufala. There were many other boats there and lots of people hanging out. Horatio made lots of new friends and got all kinds of attention. One guy came over to talk to me about Horatio. I'm pretty sure I was being hit on. He was asking all kinds of "get to know you" type questions. I saw him checking me out too. That's kind of cool to know that my dog can pick up dudes. It goes both ways though. Horatio picked up some drunk old skanks for Randy.
Mom and Dad didn't go to Eufala with us. They stayed home to throw the final rooftop party of the year. While they were up there, a guy from the local paper came up with a photographer and interviewed everybody. There was a big story about it in the paper. It was pretty good except for some quotes that came from some guys who were invited by one of Dad's friends and had no idea what was going on. They seemed to think the party was theirs and said that they got the idea from Cubs fans. Whatever assholes. You didn't have an idea. You were invited to someone else's party, so shut up.
The Redhawks finished up the regular season last night. They won their division and will be home for the playoffs on September 10. They play the first 2 games in the series on the road then come home for the last three. So, we're only guaranteed one more home game, but it's better than nothing.
Football season is finally here! I'm so excited. Dad and I are driving to Lawrence tomorrow to see TU's season opener at Kansas. I think we're going to lose, but it should at least be a close game. I can't wait.
I guess that's all for now. I'm forgetting stuff, but it is what it is. At least I wrote something. Toodles.
---