Hot damn! My site is back up! I don't know what happened, but I couldn't get access to by site for about 2 weeks. It was a little traumatic. I thought that perhaps my web host had just shut down or something and I had lost everything again. I really need to start keeping a backup of this crap before I really do lose it. I am such a moron. I'm so relieved that everything is still here. I was so convinced it was gone, I was already making plans to start a completely new site. New name, new crap and everything. That would've been a lot of work. I really dodged a bullet here. Sweet.
Yesterday on the bus, I saw this woman who I cross paths with periodically. She is a regular rider and knows Randy and knows that I'm his wife. I don't think I've seen her since the wedding. She's really annoying so I just try to ignore her which is hard to do because she is a really loud talker. So yesterday she sat down and asked how married life was treating me and if Randy was treating me good. I told her everything was good. Then she said, "You're not pregnant yet are you?" So inappropriate. What the hell is wrong with people? And, like I mentioned, she talks really loud so the whole bus heard all of this. I so wanted to kick her ass. (The answer is no, by the way.)
My ncaa tourney brackets went to shit when Kentucky choked. Stanford didn't do me any favors either. Thanks alot, bastards.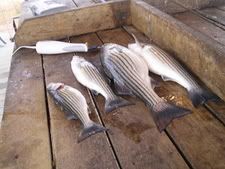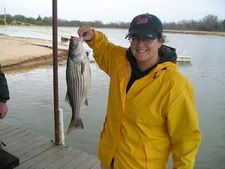 Last weekend Dad, Randy and I went on a striper fishing trip with a fishing guide at Lake Texoma. It was Dad's birthday present to Randy. Sadly, the weather sucked balls and the fish just weren't biting. None of the guides were having any luck. There were 20+ mph winds and 4ft swells on the lake. It was rough. We caught 5 fish. We threw 1 back because it was little. I caught the biggest fish, a 5 pounder. Dad caught 1 that was about 4 pounds. Dad caught a couple more smaller ones. I caught the one we threw back. Randy got shut out. It was a lot of fun even though we didn't catch much. That was still the biggest fish I've ever caught, so I was pretty happy. I wish Randy would've caught something. It was his birthday present after all. Luckily, Randy will have a chance to redeem himself in June. The guide invited us back for a free trip since we didn't catch anything. I can't wait. Fishing kicks ass!
Wow, it's so good to have my site back. I think I might go ahead and do another redesign. I had some ideas about things I wanted to different while I was making a plan about what to do if I lost this one. I don't know what I'm going to do. I really need a better computer to do this right. We'll see what happens. Have a lovely day.