Mom and Dad are in Vegas, again (you bastards!) That means I've been checking on the house and picking up the newspaper for them. While I was at the house, I used their computer to work on my site. Yay, it's about time. I uploaded a bunch of pictures yesterday and organized some files. It was a very productive afternoon. OK, enough chit-chat. On to my update...


Dad and I flew to Boise, Idaho to watch TU play Georgia Tech in the Humanitarian Bowl on January 3rd. We flew into town Friday afternoon the day before the game. There's really not much to say about Boise. It's a nice enough place, but it's small and cold and there's not a damn thing to do unless you ski. Because of my super springy joints and general laziness, I do not ski, hence, Boise wasn't too exciting for me.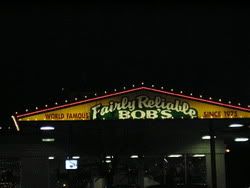 I can tell you that if you're ever in Boise and need to buy a truck, go see the folks at "Fairly Reliable Bob's Truck Center." I haven't bought a truck there myself, but I have it on good authority that Fairly Reliable Bob's is fairly reliable. I found several other businesses in Boise that you'll want to visit if you're ever in town. Fill your tank at "Stinkers Gas Station", grab some lunch at "Eat-A-Burger" and stay safe with help from the folks at "Rainbow Rubbers", Boise's only condom store. Yep, Boise is a weird little town.
We spent Friday afternoon cruising town looking for the team hotel and other stuff. The streets in Boise are insane. It's a small town, but there are tons of streets that run diagonal and curve all over the place for no reason. And there are several that simply change names from block to block. It's like they just built streets wherever they felt like it without having a plan. It's total madness. So, we spent a lot of time driving in circles.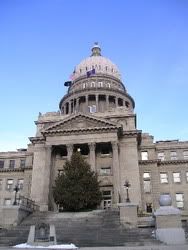 We found our way downtown and saw the Idaho State Capital. We had lunch at a little Italian place where I had a bitchin' meatball sandwich. We also went to the mall where I bought a Simpsons trivia 2004 calendar for half price. Here's today's question, "In Insane Clown Poppy (BABF17), which one of Fat Tony's mob is definitely not a squealer?" Is the answer, "a. Johnny Tightlips, b. Dead Paulie, c. Bobby Big Mute, or d. Laryngitis Leo?" Of course you all knew the correct answer is a. Johnny Tightlips. Sadly, my half price calendar purchase was the highlight of the afternoon.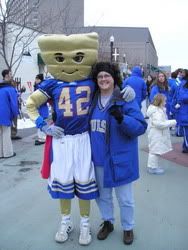 It was a lot of work, but we managed to entertain ourselves until it was time to head to the TU pep rally. It was a nice little gathering. Every TU fan in town was there, (500 or more). TU fans don't get real peppy, but they gave a good effort. The band was rockin'. The cheerleaders led some chants. Captain Cane bounced around like he was on crack. Then, some chick from the Tulsa Mayor's office read a proclamation declaring Jan. 3rd to be Tulsa Golden Hurricane Day in Tulsa. The proclamation used the word "whereas" no fewer than 15 times. The band got a kick out of yelling "whereas", every time the chick said it. Finally, Coach Kragthorpe addressed the crowd and got everyone fired up when he said the team was looking forward to playing on the "TU blue turf". I forgot to take a picture of Coach Kragthorpe because I was busy holding up my cell phone so Randy could hear what the coach had to say.
On a side note, this was the first time Randy and I have been apart since getting married. Needless to say, we were on the phone all weekend and drove Dad nuts. But my phone usage wasn't half as annoying as dad's lethal gas. Dad damn near killed me with his non-stop farting. Dad had some out of control gas. He was farting about 200 times a day. And damn did they stink. He farted so much that the car and our hotel room were saturated with fart stink. After being gone all evening, the Hotel room still smelled like a fart when we returned from dinner Friday night. He was even ripping them on the plane home. It was so nasty. Dad really needs to go get himself checked out by a doctor. I'm not sure which was worse, the horrible stench or the fact that Dad was so proud of himself. Seriously, he started counting them. It was ridiculous.
Anyway, after the pep rally, Dad and I went to dinner at a steak place. I had a seafood platter with shrimp scallops and fish. Dad had a steak. It was a good dinner. Afterward, we went to Target for a few things. Dad was flying through the parking lot, made a sudden u-turn type maneuver and squealed into a parking space. It was nuts. We left skid marks while parking. Naturally, Dad was deliriously pleased with himself. Dad's just not hooked up right. So we went to Target and bought some poster-board, markers and a few snacks. Then we went back to the room early intending to make a sign for the game and watch some bowl games. We were both asleep by 9:00.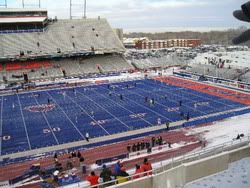 We woke up early Saturday to about 4-6 inches of fresh snow. We made our sign, had a quick breakfast and were at Bronco Stadium, home of the blue smurf turf, by 8:00 am. Kick-off was set for 10:00 am. There was some confusion as to the location of our tickets which were supposed to be at will call. But instead of having all the tickets in one place (say, will call) they had some at will call, and some at 2 different gates. They had Tulsa tickets at one gate and Georgia Tech tickets at another. I could have lived with this screwball set up if anyone who was working the game had known what was going on. It took us 45 minutes just to find our tickets. We asked employees and got different answers. We finally found them because of information we got from another fan. It was a mess. We finally got in the stadium, bought some shirts and got settled into our seats.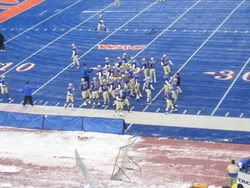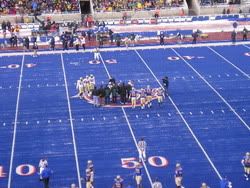 Unfortunately, there wasn't too much good stuff about the game to write about. TU got killed. They looked unprepared and inept through most of the game. Georgia Tech was bigger, faster and had clearly watched a lot of game film. They had us scouted very well. The end result is that TU lost 52-10. Ouch. It was 10-3 at the half and I really expected TU to adjust and make it a close game. But they just fell apart. Every drive resulted in a fumble or some other bonehead mistake. Dad and I honestly expected a loss when we made plans to go to Boise. We were hoping for a close game and that TU would look respectable. No such luck. But it was a great season and TU's first bowl trip in 12 years was something we just couldn't have missed. I'm glad we went and I'm proud of the turnaround TU football made this season. I can't wait until next year.
Ugh... This is taking longer than expected. I had really hoped to cover my Christmas stuff too. But I'm running out of gas. Oh well. I'll just have to take one for the team. I can't quit now...
Christmas rocked. We hit the road the weekend before Christmas to visit my Dad's parents. We spent Saturday in Oologah with Joyce and Larry. Larry and I worked out some duets and played fiddle together. It was neat. I really enjoy learning tunes from Larry. Randy and I went out and visited the cows. Randy also spent some time getting to know Larry and listening to some of his stories. And of course we ate and opened presents. I got March Madness 2004 for the Playstation 2 so I can lead TU to the National Championship over and over again. I also got a cool TU car flag which turned out to be very useful in Boise. As always, Christmas in oologah was a blast.
Next we were off to Tulsa where we spent Sunday with my Grandmother, Norma. I hooked up her DVD player for her. Then we opened presents. Mom and Dad got Norma a new computer so I spent the rest of the day hooking it up. It was lots of fun. I'm a big nerd and really enjoy hooking things up. It's kinda sad really. Norma got Randy and me a really cool croquet set. I've wanted a croquet set ever since I bought the house. Our backyard is perfect for croquet. Woo hoo! I can't wait until it's warm enough to throw another bar-b-q at the house. After I got the computer hooked up, we all went out for a late lunch at Zio's. I had spaghetti and meatballs, of course. It was tasty. After lunch and a little shopping and some final tweaking of the computer, we had to head home. It was a great weekend.
On Christmas Eve, Randy and I went to his sister's house for Christmas with the family. We had a really bitchin' fried turkey. It was full of flavor and very juicy. Tasty! Then we opened presents and I played Boomer Sooner on the viola for the family. (Huh? Audrey played Boomer Sooner? What the hell?) Well, you see, I had lost a bet to Randy's Dad over the OU/Tulsa basketball game. The bet was for lunch. But afterward, Jim decided he'd rather have me sing Boomer Sooner. I insisted I would do no such thing and instead made plans to take over a big lunch of KFC. But that morning, as Randy was in the shower getting ready to go payoff my lunch bet, I had a weak moment and devised a compromise. I got out my viola and figured out how to play that silly song on my viola. Randy and I snuck snuck my viola into the house without his parents noticing. After lunch, I excused myself and came back with the viola. I played Boomer Sooner, (several times because Jim really liked it.) He was so impressed, he asked me to play it at Christmas, so I did. I also played some Christmas tunes and a bluegrass song that I'd learned from Larry. I played pretty well and the family seemed impressed. Randy was very proud so that's good enough for me. It was a very enjoyable evening.
On Christmas Day, Randy and I woke up about 6 in the morning and were too excited to go back to sleep. Yes we really are big children. Anyway, we called and woke Mom and Dad to warn them we were on the way. We spent 2 hours opening presents. (We stopped for "Christmas halftime breakfast", a little family tradition.) There were lots of cool presents. Randy got me 2 pair of nice earrings, a pair of purple Converse Chuck Taylor high tops (Woo hoo!!!) the soundtrack to Master and Commander (kick ass!), and a calendar he had made out of wedding and honeymoon photos (Awwww). I got Randy an OU football jersey. I had it personalized with number 27 ( the day we got married) and his name on the back. It is too cool. I got Dad a hat that says "My Balls Itch!". Why? Because he only says that about 1500 times a day. When we went to Boise, it was exactly 32 minutes from the time he picked me up to go to the airport to the first time he commented about his balls itching. All he ever does is scratch. It's amazing. All these years, I just thought this ball scratching obsession was just another one of Dad's odd quirks. But now I've noticed that Randy scratches all the time too. He's like Al Bundy. He sits on the couch watching Tv with his hand in his pants scratching. It's the first thing he does when he wakes up and the last thing he does before he goes to sleep. Now I'm thinking that ball scratching is just a guy thing. Ugh... you're all just a bunch of animals. Apparently Dad's odd quirk is the fact that instead of just scratching, he has to share his frequent ball reports.
After Christmas at Mom and Dad's, we cleaned up and went to my Grandma's. She prepared the usual kick ass Christmas lunch. Dad, Randy and I played football in the street, we ate, then we opened presents. A lovely conclusion to Christmas. Randy got a fish finder from my parents and Grandmother so he's popping a nad for warmer weather to get here so we can take the boat out and start catching some fish. Of course, I'm excited too. I already like to fish. Just think how much more I'll like it when I actually catch something.
Whew, I think I made it. That was a big ass update. Hope it doesn't suck. Have a nice day.