I really hoped moving to a blog type thing would make me write more regularly. Clearly, it didn't work. It's been almost a month since I wrote anything. I am yet again disappointed in myself. Why do I suck so much?
Anyway... I went fishing on Sunday with Dad and Randy.We went with our favorite guide on Lake Texoma. Lake Texoma is loaded with stripers and
G.W. Kelly
is the best guide on the lake. He's worth every penny. He catches more fish than any guides I've seen out there. He even catches fish when no one else can. He also happens to be a cool dude and is easy to get along with.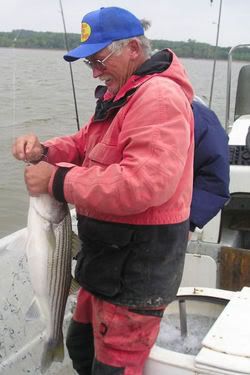 G.W. - Fishing Guru
We left the house at 3:30 in the morning and were on the lake by 6:45. The day started off really well for Dad and Randy. They were catching tons of fish although they were smaller ones. I wasn't doing so well. The only fish I caught all morning was one that G.W. hooked. He handed the pole off to me because he could tell it was a good fish. G.W. was using one of those funky spinning reels that you have to reel left handed. I'm a righty, so reeling left is a challenge for me even on a small fish. But this was no small fish. The bastard fought like hell but I finally managed to get him in the boat left-handed. He was at least 12 pounds and definitely the largest fish I've ever reeled in. It was too cool.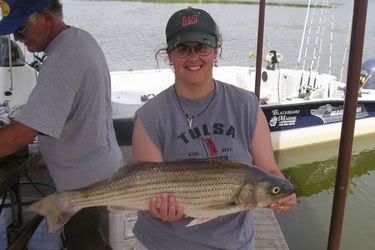 Me and my big ass fish
My luck got better in the afternoon. I think I was finally starting to get the hang of knowing when I had a fish playing with my bait vs. having my bait drag bottom. My timing on setting the hook got better and thus I started catching fish. At one point, I nabbed two big ones within a five minute span. One was a good 10 pounds. The other was 8 or 9 pounds. Those two fish were the highlight of the day for me. Yeah, that first one that G.W. handed me was bigger, but these 2 I caught on my own. I set the hook myself and fought them into the boat. It was a lot more satisfying catching them that way. I feel like I earned those two. In addition to those 2 bigger fish, I managed to consistently bring in some smaller ones too. I stayed busy all afternoon and had a very good time. Unfortunately for Randy, his luck seemed to run out about the time that mine kicked in. He was limited to just 2 little fish all afternoon. But he still seemed to enjoy watching me catch fish.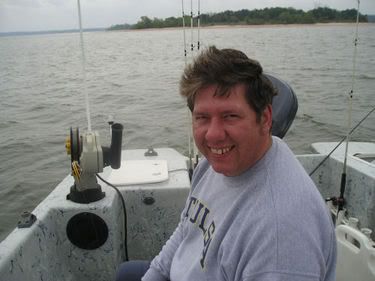 I wish Randy could've caught more fish, but at least I made him proud.
Dad pretty much kept catching fish all day. He had one big one and tons of small ones. He easily caught the most fish of the day. Too bad they were mostly little guys. Dad seemed to come across a large proportion of extremely suicidal fish. At least half the fish he caught had swallowed the hook and ruined their chances of being released. It was insane. I kind of felt bad for all those little fish.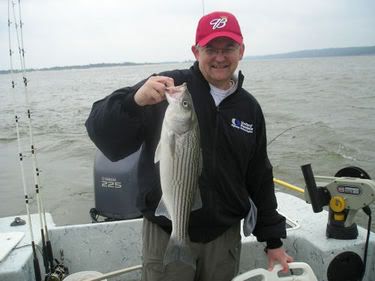 Dad's big catch of the day
Overall, we caught about 40 fish. They were mostly smaller fish (2-5 pounds), but there is still enough meat there for several meals. I can't wait to cook some. Stripers are tasty. I think we're going to have a fish fry Sunday for lunch.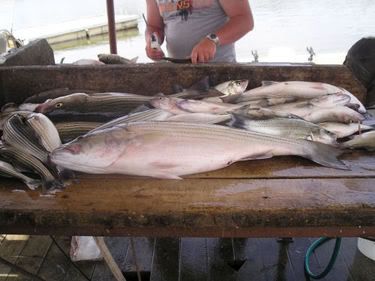 Mmmm. Dinner...
When we got back to the dock, one of the other guides had just gotten back with a group and was cleaning the fish. There were six guys in this group and I think they had split up and been with 2 guides. All those guys together caught half as many fish as we did with G.W. and none of their fish were very big. These guys had some serious fish envy going on when they saw us unload our catch. And to make it even more hilarious, at least some, if not all of the 6 guys in the group were cops. I have to admit, I did enjoy posing for pictures with my big ass fish while all the cops looked on. All those guys were fuming that some chick showed up with a huge fish. Of course it didn't help that G.W. was rubbing it in a bit by telling them how I caught most of the big fish. Is there anything more entertaining than manly-man-macho-guys being out-fished by a chick? Well, actually I can think of a lot of things, but this was seriously funny.
So, that was about it for the big fishing trip. I'd like to thank my Mom for letting us go fishing on Mother's Day. Dad took us on the trip as a birthday present for Randy. When Dad called to set it up, Mother's Day was the only weekend date available through June. (G.W. is a very popular guy. I told you he was good.) But fortunately, my Mom is cool and didn't spaz out on us. Thanks Mom. You rock! And thanks Dad for Randy's bitchin' birthday present and for taking me along. You rock too!
Gotta run. I'm probably forgetting some things, but I'll pop in during lunch tomorrow to tie up any loose ends and add stuff that I forgot. Later.